Heidelberg National Archive > Heidelberg National 2020

10th Heidelberg National MUN Conference 2020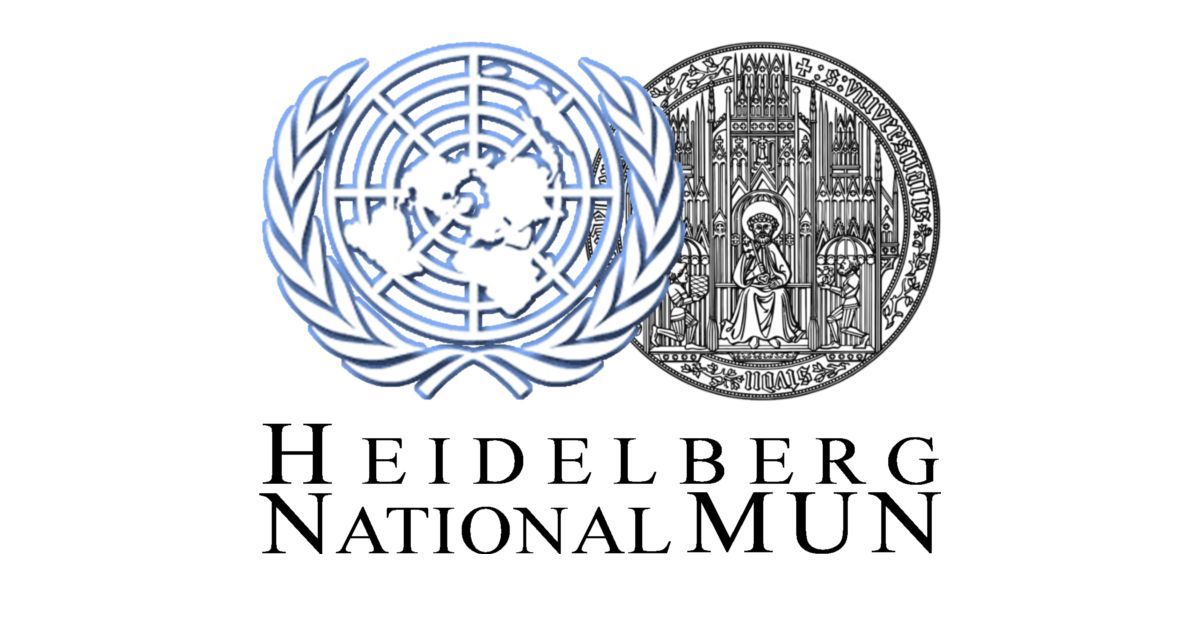 The 10th Heidelberg National MUN conference

will take place in Heidelberg from

Saturday to Sunday, January 11-12, 2020,

at the Neue Universität building in the heart of Heidelberg's beautiful old town.
Delegate registration will
is now open!
Delegation registrations will be handled with priority until December 1st, 2019.
We have prepared a special Excel sheet for delegation applications -
please send us an
email
if you need one.
Please check back here for further info.
The conference will feature two committees: One large committee with double-delegate-setup, and a smaller committee for single delegates.



A) General Assembly:
Combatting Climate Change through Development Aid?
(as double delegate committee)
*** Comittee almost full ***
Climate Change is one of the most pressing global issues of our time. Scientists have been warning about an irreversible increase in world temperature for several decades now. In 2015, the international community has established the Paris Agreement, in which almost every single country has pledged to reduce their carbon emissions. The successful conclusion of the conference has inspired hope that a global cooperation between all countries regardless of their economic status will effectively put an end to climate change.
Almost five years later, though, almost no country has fulfilled their commitments under the agreement. Moreover, the United States have withdrawn from the agreement while young people around the globe voice their disconcern about the lack of its enforcement in large-scale protests. At Heidelberg National MUN 2020, the General Assembly will consequently have to discuss if additional measures are needed to reduce carbon emissions. Especially one policy instrument has not been effectively put into use yet in this regard: economic cooperation. Delegates will thus have to decide if a new framework for development aid can help to combat climate change.
The Study Guide for the General Assembly is now online. Also, check out our Rules of Procedure. Please check back here for updates.
B) World Bank:
Microfinance and Gender Equality
(as single delegate committee)
*** Seats still available ***
Microfinance, that is giving out small loans to the very poor, has shown to be a functioning tool to enable people to engange in entrepreneurial action. Through that action, the so enganged can improve their own living standards. Gender equality, the UN's Sustainable Development Goal #5, is based on the fact that women are still suffering discrimination and violence throughout the world.
Analysis of past microfinance projects have not only shown their efficiency. They have also shown that women were heavily participating, and benefitting from such programs. Delegates of Heidelberg National MUN 2020's World Bank committee will further deepen this analysis, and explore how SDG #5 can be further enhanced through microfinance.
The Study Guide for the World Bank committee is now online. Also, check out our Rules of Procedure. Please check back here for updates.
Conference logistics:
Heidelberg National MUN 2020 will open its registration desk on Saturday, January 11th, 2020, at 9 a.m. The conference will close on Sunday, January 12th, 2020, at 5 p.m.
The delegate fee is EUR 15,00. Included are conference registration and materials, two lunch meals, and coffee.

Check back here for further updates! If you are into Facebook, you can subscribe to our FB event page for further updates.

Shoot us an email if you want to be informed about major developments: hnmun@worldmun-hd.de