Heidelberg National Archive > Heidelberg National 2014
4th Heidelberg National MUN conference 2014, Jan. 11-12
We are proud to announce that the fourth session of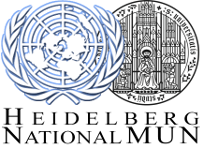 will be held at the University of Heidelberg
from Saturday, January 11th to Sunday, January 12th, 2014!
After a great 3rd Heidelberg National MUN in 2013 that brought the spirit of MUN to almost 140 delegates, we are moving into the center of beautiful Heidelberg: the conference venue for Heidelberg National MUN 2014 will be the main lecture hall of the University of Heidelberg, the Neue Universität .
Registration is closed. Committees and co-delegates have been assigned.
If you have not received such info, please contact us asap!

Study Guides for both committees are now online.
Please check below, and notice the SC Update!