Heidelberg National Archive > Heidelberg National 2015
5th Heidelberg National MUN Conference 2015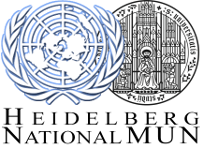 The 5th Heidelberg National MUN conference

will take place in Heidelberg from

Saturday to Sunday, January 10-11, 2015,

at the Neue Universität building in the heart of Heidelberg's beautiful old town.
Registration is closed!

Committee ans country assignments have be sent out -
so please check your mailboxes
and contact us if you have not received yours!
The conference will feature two committees:
A. Security Council (as single delegate committee)
*** COMMITTEE IS FULL ***

Topic: Containing the Islamic State
The Arab Spring raised hopes for an era of peace and democratization for the middle east. Many however, were disillusioned by the political struggles in Egypt and Libya, as well as the civil war raging in Syria. This disillusionment has contributed to the rapid rise of the Islamic State in Iraq and the Levant, which proclaimed a worldwide Islamic caliphate on 29 June 2014, and has since then committed uncountable human rights violations and war atrocities.
More info on the topic and about the SC chair at Heidelberg National MUN 2015 can be found here.

B. United Nations Conference on Trade and Development (UNCTAD) (as double delegate committee) *** FEW SEATS REMAINING ***

Topic: Development through Fair Trade
The pros and cons of trade liberalization are on the agenda again. After several years of a stalling WTO, new attempts have been initiated. Dividing the world, the questions about benefits through (fair?) trade are not easy to answer.
More info on the topic can be found
here
.
When you are registered and want to start preparing for the conference, take a look at our Preparation Opportunities : Study Guides, Rules of Procedure and starting points for your research.

Conference logistics:
Heidelberg National MUN 2015 will open its registration desk on Saturday, January 10th, 2015, at 9 a.m. The conference will close on Sunday, January 11th, 2015, at 5 p.m. Take a look at our schedule for more information.

The delegate fee is EUR 10,00. Included are conference registration and materials, two lunch meals, and coffee.
Import Heidelberg National 2015 >>
click here
<< to your calendar!