WorldMUN Archive > WorldMUN 2018

Harvard WorldMUN 2018 - Panama City, Panama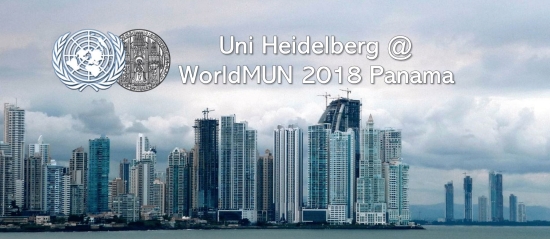 The 2018 edition of Harvard World Model United Nations (Harvard WorldMUN) will be held in Panama City, Panama. The University of Heidelberg is proud so send a delegation to this renowned MUN conference for the fifteenth (!) consecutive time.
We are looking for open-minded, politically and culturally interested students enrolled at the University of Heidelberg. The online application period for this venture is now closed. Selection interviews took place this week. Results will be sent out this weekend.
The path to Panama is laid out as follows:
First delegation meeting in the week of October 30, 2017
Introductory full-day training on November 11th, 2017
Obligatory participation in KaMUN 2017 in Karlsruhe (November 17-19, 2017)
Full-day training on December 16, 2017
Visit to the Berlin embassy of the country represented (date tbd)