Welcome to World Model United Nations Heidelberg!
The delegation of the University of Heidelberg has successfully participated at various conferences including Harvard World Model United Nations in Seoul, South Korea; Brussels, Belgium; Melbourne, Australia; Vancouver, Canada; Singapore; Taipei, Taiwan; The Hague, Netherlands; Puebla, Mexico; Beijing, People's Republic of China; Geneva, Switzerland; Sharm El-Sheik, Egypt; Belo Horizonte, Brasil; Athens, Greece; Istanbul, Turkey; Cambridge, United Kingdom and National Model United Nations in New York, United States of America.
Besides winning numerous awards, the University of Heidelberg has so far been the only German University being honored to have been chosen as host for the Harvard World Model United Nations in 2003.

---
What's up next?

Info Session on joing the University of Heidelberg's delegation to
Harvard WorldMUN 2017 in Montréal, Canada, March 13-17, 2017:
Thursday, July 21st, 2017, 8 pm., Marstallcafe
The 7th
Heidelberg National MUN
Conference

will be held on January 7-8, 2017, in Heidelberg.
Expect further info here in October, 2016.

*** ***
Heidelberg Delegation for Harvard WorldMUN 2016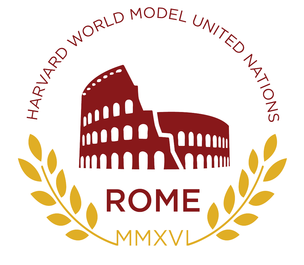 The University of Heidelberg's delegationto went to Rome -
and congratulates Jeremy on his diplomacy award,
and Max on his honorable mention!

*** *** *** *** ***
---
What we do:
We regularly participate as the University of Heidelberg's delegation at one of the largest and most demanding Model United Nations (MUN) simulations, the Harvard WorldMUN Conference. In 2016, it will be held in Rome, Italy.

For four consecutive years, we have established our own Model UN simulation in Heidelberg, the Heidelberg National MUN. The 2016 conference took place in Heidelberg on January 9-10, 2016.
If you have any questions about either MUN conference, please don't hesitate to contact us !