Welcome to World Model United Nations Heidelberg!
The delegation of the University of Heidelberg has successfully participated at various conferences including Harvard World Model United Nations in Rome, Italy; Seoul, South Korea; Brussels, Belgium; Melbourne, Australia; Vancouver, Canada; Singapore; Taipei, Taiwan; The Hague, Netherlands; Puebla, Mexico; Beijing, People's Republic of China; Geneva, Switzerland; Sharm El-Sheik, Egypt; Belo Horizonte, Brasil; Athens, Greece; Istanbul, Turkey; Cambridge, United Kingdom and National Model United Nations in New York, United States of America.
Besides winning numerous awards, the University of Heidelberg has so far been the only German University being honored to have been chosen as host for the Harvard World Model United Nations in 2003.

---
What's up next?
Upcoming in 2017/18:
For joining the delegation of the
University of Heidelberg
to Harvard WorldMUN 2018
, check back here
regularly, or shoot us an
email
to be put on our mailing list.
Recruitment will start at the beginning of the Winter Semester 17/18.
Also, save the date for the 8th Heidelberg National MUN 2018:
January 6-7, 2018!
*** ***
The University of Heidelberg's delegation to Harvard WorldMUN 2017

has been chosen, and returned safely and full of fond memories from Montréal!
Congratulations to Natalie for being recognized as a new Resolution Fellow with
her social venture IMPaCT (more info to follow!), and Matthias for his
Diplomacy Award!
*** ***
The 7th
Heidelberg National MUN
Conference

was held on January 7-8, 2017.
Further info on committees and topics
here
.
The conference is over - thanks to all delegates, chairs,
pagers and staffers, and the devoted Hausmeister!
History: Heidelberg Delegation for Harvard WorldMUN 2016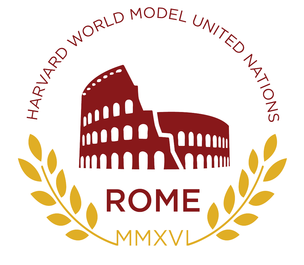 The University of Heidelberg's delegation went to Rome -
and congratulates Jeremy on his diplomacy award,
and Max on his honorable mention!
*** *** *** *** ***
---
What we do:
We regularly participate as the University of Heidelberg's delegation at one of the largest and most demanding Model United Nations (MUN) simulations, the Harvard WorldMUN Conference. In 2017, it will be held in Montréal, Canada.
For six consecutive years, we have established our own Model UN simulation in Heidelberg, the Heidelberg National MUN. The 2016 conference took place in Heidelberg on January 2016. The 2017 edition will be held in Heidelberg on January 7-8, 2017. Further info is online here.
If you have any questions about either MUN conference, please don't hesitate to contact us!