WorldMUN Archive > WorldMUN 2010

Harvard WorldMUN 2010: Taipei, Taiwan

We would like to express our deep gratitude for this years sponsors who allowed all of us to participate at WorldMUN. Several Institutions and companys of the Rhein-Neckar Region have been so kind to support us: Deutscher Akademischer Austauschdienst, Alfred Weber Institut, Gesellschaft der Freunde - Stiftung Universität Heidelberg, Volksbank Heidelberg, Streilinger Vertriebsmarketing. Thank you very much!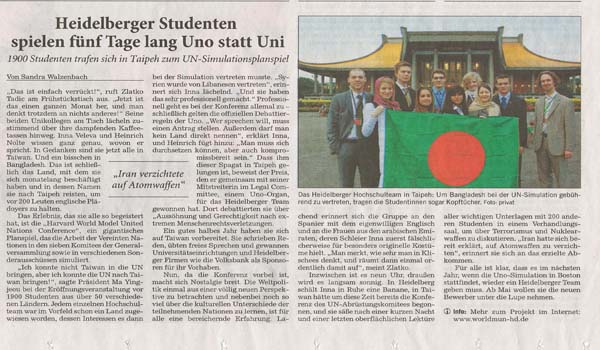 The University of Heidelberg was represented at Harvard World Model United Nations 2010 by:

Delegation:
Studies: Cultural Studies and Economics

Languages: German, English, French, Spanish


To me, Harvard WorldMUN is not only a great way to meet people from all over the world and get insights into their cultures. It is about improving my understanding of important choices made by international organizations and their members. I would like to understand the decision-making processes and the challenges of international cooperation in the 21st century. Only by doing that, I can elaborate on my ideas how universal peace and responsible governance can be achieved and work towards my goal of one day having a share in that.

Verena Kling

Studies: Law (International Law)


Languages: German, English, French, Greek, Italian, Ancient Greek, Latin

I want to participate in Harvard WorldMUN because it is an excellent opportunity to get an impression of the decision-making process on a global level. Moreover, it is an occasion to meet students from all over the world and to develop an understanding for the interests and views of other cultures.

Hannah Laubenthal

Studies: Politics and Islamic Studies

Languages: German, English, Thai, Arabic

For me, Harvard WorldMUN is a unique possibility to work together with motivated students from around the world, enhance language and diplomatic skills, learn about the UN system and procedures and to make a contribution to intercultural understanding. While I could already gain experience with conferences and congresses concerning Europe-related topics, I see this conference as a chance to become acquainted with structures and processes on the global level. Sharing knowledge and different opinions about issues concerning the whole international community and thus to improve intercultural dialogue is one of the outcomes I hope to achieve in Taiwan.

Phillip Metzler

Studies: Physics

Languages: German, English, Latin

After The Hague in 2009 Taipei is going to be my second World MUN conference. Already looking forward to meet my former committee delegates again, I am curious, if the discussions will be that lively as they have been last year. Feeling the tension and the excitement when speaking in front of a committee with more than one hundred fellow delegates is an important experience that is more and more useful in a closer connected world that asks for communication and respect within the nations and their people.




Heinrich Nolte

Studies: Economics and Politics

Languages: German, English, French, Spanish

Having had the chance to participate at several Model United Nations in Europe and the United States, I feel that the participation at Harvard World Model United Nations in Taiwan is an especially interesting challenge due to the truly international character of the conference. It doesn't only give us the chance to practice negotiation, public speech and global cooperation but first of all offers us the possibility to contribute to international understanding and to further improve the relations between Germany and the rest of the world.

Andrea Schwaiger

Studies: Law

Languages: German, English, French, Spanish

My interests in international relations, human rights, legal issues and politics have strengthened over time. What encourages and excites me about WorldMUN is the cross-cultural exchange, the chance to discuss and debate different points of views with other students from around the world and test the boundaries of my open mindedness. Concerned about international affairs I believe participating will help me to find common ground on a variety of interesting topics and furthermore make new friendships. To a fun and fruitful time in Taiwan !!

Zlatko Tadic

Studies: Economics

Languages: Croatian, German, English, Spanish


For me WorldMUN is an unique experience that allows and encourages me to hone public speaking, analytical, and negotiating skills as well as broaden my perspective on a variety of international topics as well as deepen my understanding of different cultures and their views. I'm really looking forward to meet delegates from around the world, to debate and discuss international issues, all while soaking in the wonderful impressions of the host city and of course to build friendships that last a lifetime.

Studies: Politics and Islamic Studies

Languages: German, English, Bulgarian, Arabic, Russian, Farsi

Due to its critical, creative and open-minded approach to international issues, the Harvard World Model United Nations Conference provides in my opinion an unique opportunity, to enhance students' social interaction and leadership skills such as enquiry and communication, participation and responsible action, active listening, decision-making, problem solving and conflict resolution on a global level. Aware of my vast and practical interest in International Relations, Political Science and European Integration processes, I am enthusiastic about the concept of representing another country and I consider it an unparalleled chance to experience the inimitable atmosphere of international encounters.

Sebastian Zilch

Studies: Economics

Languages: German, English, French

As the world comes closer together due to globalization processes, it is more important than ever to work on the subject of international understanding in order to face the common challenges. WorldMUN is a wonderful forum for young students from all over the world to get taste of international work and at the same time acquire new contacts on a personal level. For me it is a great chance and challenge to think from a different perspective on various issues, something that is necessary because of the country we will have to represent will not be our home country. This is something that I understand to be vital for international cooperation, where the world's future lies.
Lutz Mager

Legal Advisor at the Ministry of Science, Research and the Arts Baden-Württemberg