Welcome to World Model UN Heidelberg,

more precisely to the University of Heidelberg's home-page for the Harvard WorldMUN 2003. It was our very great pleasure to announce that, after having put in a successful bid, we had the privilege of being the host university for this year's annual conference!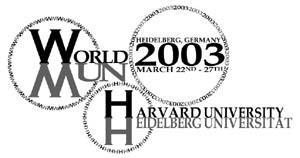 ---
Site updates:
** latest news **
- Final Report on Harvard WorldMUN 2003 here (.pdf - 520 kb)
- Pictures of the Conference online *soon*
Old:

How to get to Heidelberg - Guide
Conference Schedule here (updated 11.03.03)
Press Info Page ready (updated 15.02.03)
Also, we now have the Rules-files online:
rules, debate flow, document flow (all .pdf)
---
The current site is designed to provide you with detailed information for the forthcoming event. It also gives us, the Heidelberg Team, a chance to introduce ourselves. Additionally you will find material on the aims and activities of the WorldMUN Heidelberg e.V.